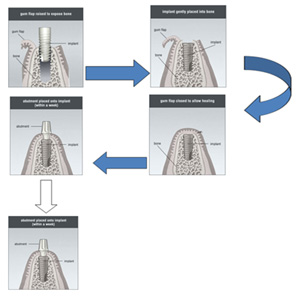 Click on the Image to Enlarge
IMMEDIATE FUNCTION IMPLANTS:-
- Makes implant treatment very similar to general crown & bridge restorations.
- Procedure is easy and very efficient.
- Easy for both patients and dentists.
- Short and non-traumatic surgery with a minimum of post-operative reactions.
- Patient satisfaction.
- Simplifies the work of the treatment team.
ADVANTAGE OF IMMEDITE FUNCTION IMPLANTS:-
- Less Discomfort.
- Reduced Chair time.
- Immediate Function.
- Reduced Bone Loss.
CONSIDERATION:-
- Must be enough bone in the jaw.
- Bone has to be strong enough to hold and support the implant.
- Natural teeth and supporting tissues near where the implant will be placed must be in good health.
- If bone volume or density is inadequate, a bone graft procedure must be considered first.
SUCCESS RATES:-
Dental implant success is related to:-
- Operator skill.
- Quality and quantity of the bone available at the site.
- Patient's oral hygiene.
- The general consensus of opinion is that implants carry a success rate of around 95%.
CONTRAINDICATION:-
- Lack of sufficient alveolar bone.
- Uncontrolled type II diabetes.
- Patients who take intravenous bisphosphonates(for Breast cancer and Osteoporosis).
- Bruxism (tooth clenching or grinding).